Directly see missed CQ calls in Teams
Teams Easy Call Report – See missed calls in call queues!
Call queues in Teams Phone are a great way to control incoming calls and distribute them to multiple users at the same time. However, there is one drawback: you don't see missed calls.
With Teams Easy Call Report we solve this problem for you!

Key Features Teams Easy Call Report
Take advantage of the following benefits with the Teams Easy Call Report solution. Watch the video below for a demo of the basic Teams Easy Call Report feature.
Message Cards im Teams Channel
Messages about missed calls are sent directly to a Teams Channel of your choice. This is done via so-called cards (see also pictures in the title).
Buttons can be used to perform various actions. For example call backs by click, send email to caller, open website of caller or even open a «Search.ch» entry. Customized actions are also possible.
Increase your efficiency in coordinating callbacks with Teams.
Users can start a thread per message and thus, for example, inform other team members that the callback has already been completed.
By tagging other team members, callbacks can be easily assigned or delegated to teammates.
If you wish, we can also post daily or semi-daily statistics to your channel.
This statistic shows which of your call queue calls were answered or missed in a specific queue. The data can be enriched with further information, for example from a CRM or from «Search.ch». Ask us, we will be happy to check other uses.
Starting point for teams Easy Call Report
Missed calls on call queues are not displayed in teams – time for a simple solution
Calls are distributed via call queues, this offers a lot of comfort, but has a significant disadvantage:
Not every caller waits until the voicemail announcement comes and therefore hangs up
Missed calls in a queue are unfortunately not displayed in teams
Customers cannot be called back because the call was not registered
Microsoft currently does not offer the possibility to see missed calls in CQs
With Teams Easy Call Report, it is possible to take advantage of all the benefits of call queues without sacrificing the reporting of missed calls. Communication and coordination regarding missed calls is simplified through Teams Message Cards and Threads.
Teams Easy Call Report – a simple & affordable solution
We offer Teams Easy Call Report, a simple solution to post all your missed calls in call queues, directly to a Teams channel.
You can monitor any number of call queues and choose to post them all to the same channel or to different channels. This way you can upgrade a long desired feature at an affordable price and increase your efficiency at the same time.
The «Quick Action» buttons offer you a way to quickly and easily perform an action. For example, you can perform a callback with just one click. If you prefer to write an email or view the caller's website first, there are more buttons available.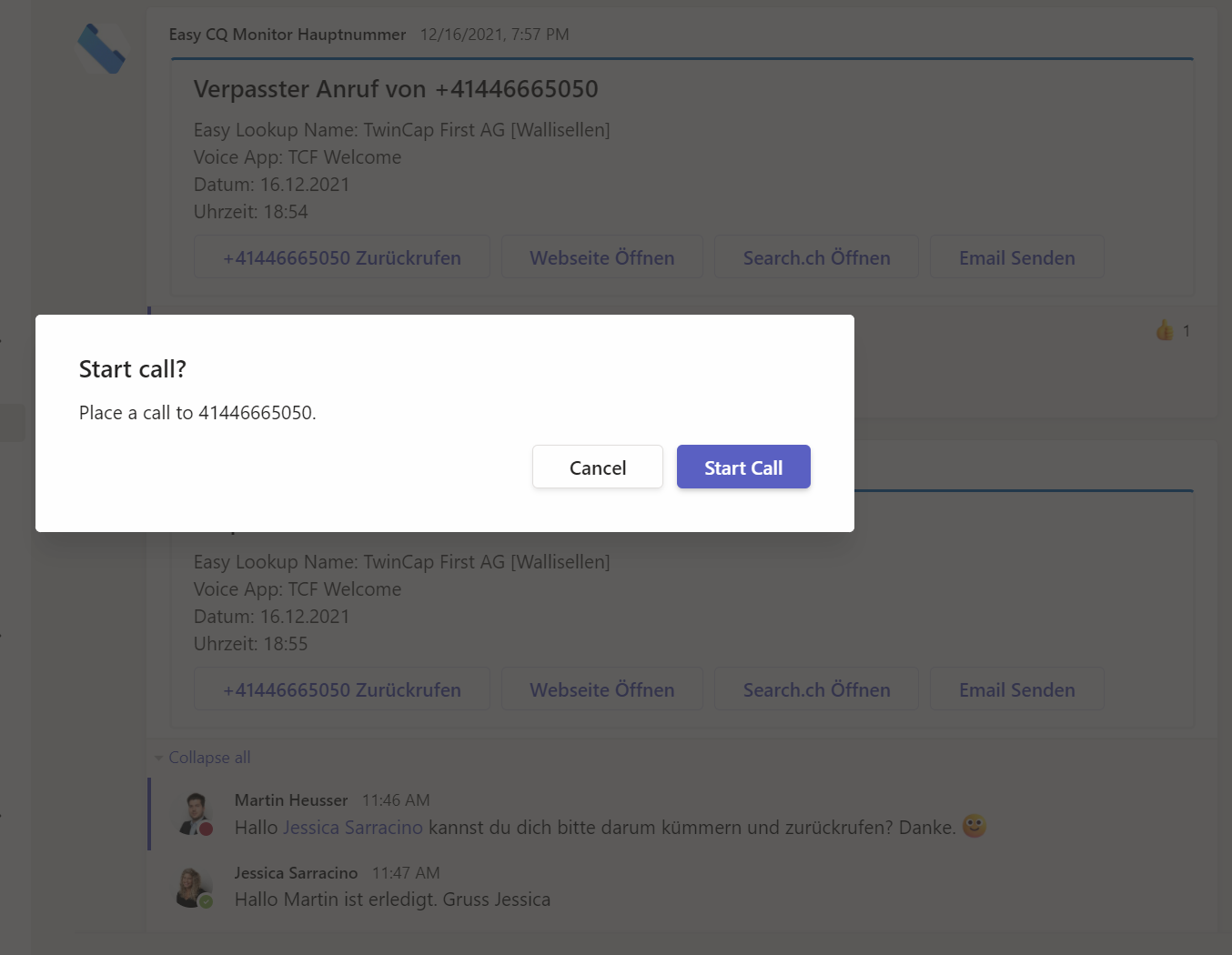 Message Card without Easy Lookup
Message Card with Easy Lookup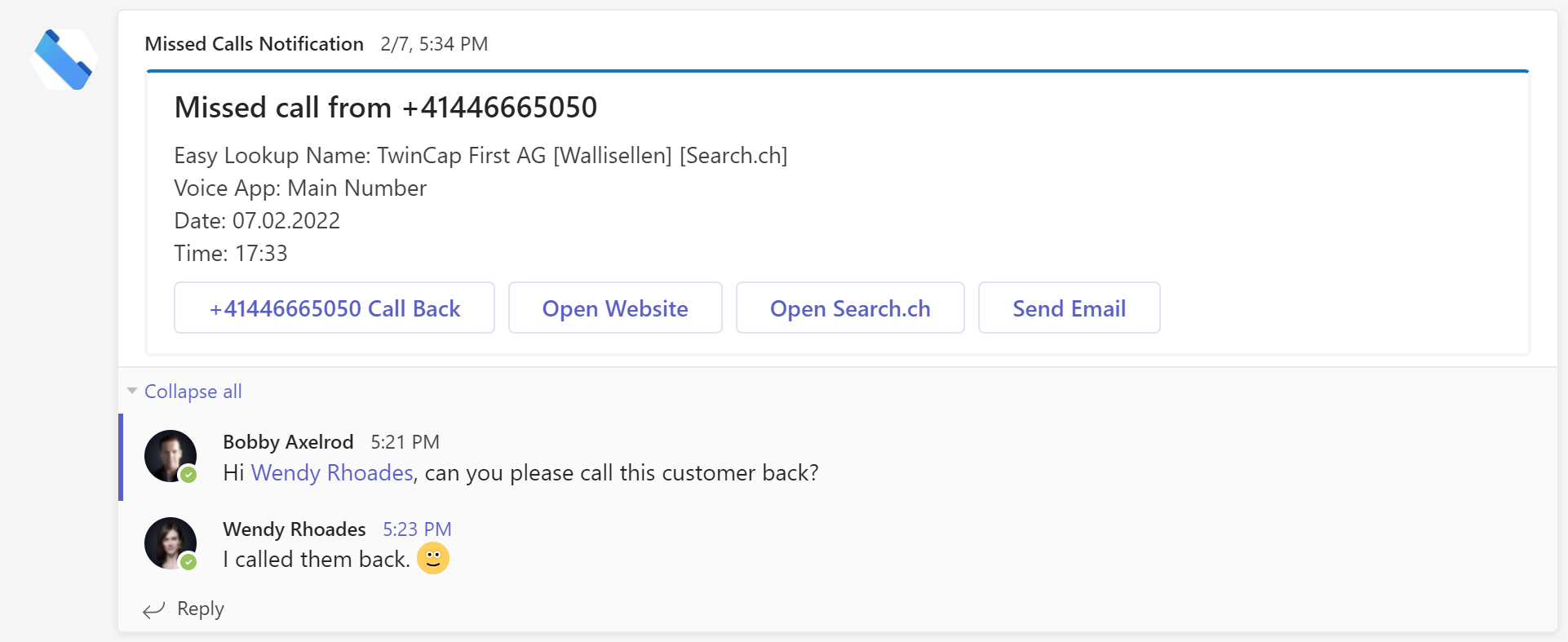 Prices Teams Easy Call Report
A quote is provided for the setup, depending on the scope (number of monitored call queues and customizing).
Billing takes place annually. Monitoring up to 10 call queues costs CHF 100.- per year.
If you would like to monitor more than 10 call queues, this is an additional CHF 100.- per additional up to 10 monitored call queues.
Example: Monitoring 15 call queues costs CHF 200.- per year.
All prices are exclusive of VAT.
Pricing
CHF
100
/for 10 monitored Call Queues
Please contact us
We are at your disposal for further information. There are two ways to get in touch with us. Book a Microsoft Teams appointment directly or leave us your details via the form.
Book a Teams Meeting with our consultant directly online. You will then receive an invitation by e-mail and can start the Teams Meeting with the attached link or dial in with a dial-in number.
Or make a request via our form
"*" indicates required fields