Verpasste Teams-Call-Queue Anrufe sehen
ENGLISH version of blog
Verpasste Teams-Call-Queue Anrufe sehen: Call Queues (Anrufwarteschleifen) sind eine grossartige Möglichkeit, Teams Anrufe an verschiedene Personen gleichzeitig zu verteilen und eingehende Anrufe zu steuern. Sie können damit die Hauptnummer Ihres Unternehmens bei mehreren Mitarbeitern klingeln lassen oder auch eine einfache IT-Hotline einrichten.
Aktuell gibt es einen bedeutenden Nachteil: Sie sehen verpasste Anrufe in Call-Queues nicht, wenn ein Anrufer aufgelegt hat bevor der Anruf abgenommen werden konnte oder Anrufer eine Voicemail hinterlassen hat. Je nach Branche kann dies ein Killerkriterium für die Teams Telefonie sein.
Wenn auch Sie gerne wissen möchten, welche Anrufe auf Ihren Call Queues nicht abgenommen werden konnten, dann lesen Sie unbedingt weiter. Wir haben eine einfache, aber effektive Lösung entwickelt, um genau dieses Problem zu adressieren.
Problemstellung
Nicht jeder Call Queue Anrufer wartet, bis die Voicemail Ansage kommt und legt daher auf
Verpasste Anrufe in einer Call Queue werden in Teams leider nicht angezeigt
Kunden können nicht zurückgerufen werden, da der Anruf nicht registriert wurde
Microsoft bietet aktuell keine Möglichkeit verpasste Anrufe in Call Queues zu sehen (ausser mit Power BI Reports)
Unsere Lösung – der Teams Easy Call Report
Mit Teams Easy Call Report ist es möglich alle Vorteile von Teams Call Queues zu nutzen, ohne dabei auf die Meldung von verpassten Anrufen zu verzichten. Die Kommunikation und Koordination von verpassten Anrufen werden durch Teams Message Cards und Threads vereinfacht.
Wir haben ein Video (DE) von Teams Easy Call Report, dass Ihnen die Funktionsweise erklärt.
Message Cards im Teams Channel
Meldungen über verpasste Anrufe werden direkt in einen Teams Channel nach Wahl geschickt. Dies erfolgt über sogenannte Cards. Über Buttons können verschiedene Aktionen ausgeführt werden. Zum Beispiel:
Rückrufe per Klick
E-Mail an Anrufer senden
Website des Anrufers öffnen oder auch einen «Search.ch» Eintrag öffnen
auch kundenspezifische Aktionen sind denkbar

Kollaboration in Teams
Steigern Sie mit Teams Ihre Effizienz bei der Koordination von Rückrufen. Benutzer können pro Meldung einen Thread starten und zum Beispiel so anderen Teammitgliedern mitteilen, dass der Rückruf bereits erledigt ist. Durch das Markieren von anderen Team Mitgliedern, können Rückrufe einfach an Teamkollegen zugewiesen oder delegiert werden.
Easy Lookup Integration und Customizing
Viele unserer Kunden geniessen bereits den Komfort von Teams Easy Lookup. Dabei wird bei eingehenden Anrufen eine Anrufer-Erkennung mittels Search.ch oder Ihrer eigenen Datenquelle (zum Beispiel ein ERP/CRM oder eine andere Quelle) durchgeführt. Nummern von Anrufern deren Anrufe verpasst wurden, können auch bei Easy Call Report via Search.ch ermittelt werden.
Auf Wunsch können wir die Lösung auch für Sie individualisieren und anpassen. Denkbar wäre zum Beispiel eine Anbindung an Ihr ERP oder CRM-System, damit in der Meldung auch gleich die Firma, der Vertrag, ein SLA oder eine Kundennummer oder der Name des Anrufers angezeigt wird.
Eine einfache und preiswerte Lösung
Wir bieten mit Teams Easy Call Report eine einfache Lösung, alle ihre verpassten Anrufe in Teams Call Queues, direkt in einen Teams Channel zu posten.
Sie können eine beliebige Anzahl Call Queues überwachen und die Meldungen wahlweise alle in denselben oder in verschiedene Channels posten. Auf diesem Weg können Sie zu einem günstigen Preis ein lang ersehntes Feature nachrüsten und dabei erst noch ihre Effizienz steigern.
Die «Quick Action» Buttons bieten Ihnen eine Möglichkeit schnell und einfach eine Aktion auszuführen. So können Sie z.B. mit nur einem Klick einen Rückruf ausführen. Wenn Sie lieber eine E-Mail schreiben möchten oder zuerst die Webseite des Anrufers ansehen möchten, stehen Ihnen weitere Buttons zur Verfügung.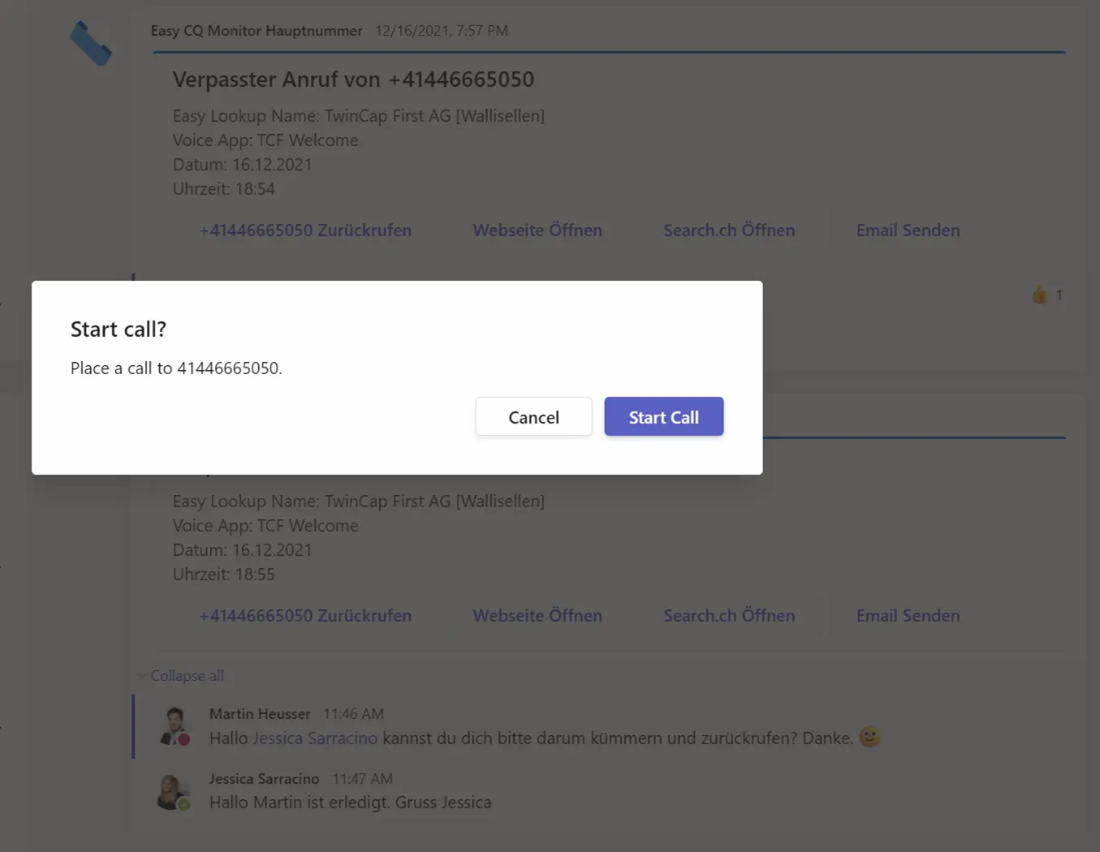 Die Wichtigsten Vorteile im Überblick
Sie können alle Vorteile von Teams Call Queues nutzen
Sie müssen nicht auf Benachrichtigungen zu verpassten Anrufen verzichten
Sie können so viele Teams Call Queues überwachen, wie Sie wollen
Nutzen Sie Datenquellen, um Anrufer Informationen zu ergänzen (z.B. von Search.ch)
Die Effizienz bei der Kommunikation und Koordination wird gesteigert
Die Lösung ist Telekom Anbieter unabhängig (Funktioniert mit allen Direct Routing Anbietern und Operator Connect)
Calling Plans sind zurzeit NICHT unterstützt
Message Cards sind in Deutsch oder Englisch verfügbar (Standard, Anpassungen nach Wunsch in anderen Sprachen sind möglich)
Weitere Informationen
Weitere Informationen, Preise und eine FAQ finden Sie auf unserer Produktseite.
See missed Teams Call-Queue calls
DEUTSCHE Version des Blogs
Teams Call-Queues are a fantastic way to let teams distribute calls to different people at the same time and control incoming calls. You can use them to make your company's main number ring with multiple employees or even set up a simple IT hotline.
Currently, there is one significant drawback: you do not see missed calls in Call-Queues if a caller hung up before the call could be taken by an agent or the caller could leave a voicemail. Depending on the industry, this can be a killer criterion for Teams Telephony.
If you too would like to know which calls on your call queues could not be picked up, then be sure to read on. We have developed a simple, yet effective solution to address this very issue.
The problem
  Not every Teams call queue caller waits until the voicemail announcement is played and therefore hangs up
  Unfortunately, agents cannot see missed calls in a Teams call queue
  Customers cannot be called back because the call was not registered
  Microsoft currently does not provide a way to see missed calls in call queues (except with Power BI reports)
Our solution – Teams Easy Call Report
With Teams Easy Call Report, it is possible to take advantage of all the benefits of Teams Call Queues without sacrificing missed call reporting. Communication and coordination of missed calls is easy with Teams Message Cards and Threads.
Please watch our video to see how Teams Easy Call Report works
Message Cards im Teams Channel
Teams Easy Call Report sends messages about missed calls to a Teams Channel of choice by using sp called cards. On the card, you can use custom buttons to perform various actions. For example:
Callbacks per click
Send e-mail to caller
Open caller's website or even open a «Search.ch» entry
customer specific actions are also possible

Collaboration in Teams
Increase your efficiency in coordinating call-backs with Teams. Users can start a thread per message and thus, for example, inform other team members that the call-back has already been completed. By tagging other team members, call-backs can be easily assigned or delegated to teammates.
Easy Lookup Integration and Customizing
Many of our customers already enjoy the benefits of our Teams Easy Lookup Solution. This will perform a lookup on the callers number either in a public directory or your own custom source before the call is sent to Teams. It's also possible to use a public directory to identitfy the numbers of callers who's calls were missed, before the notification is posted to your Teams Channels.
On request, we can also customize Easy Call Report for you. Possible scenarios would be to integrate your CRM or ERP system so we can identify the names or company names of before your Team get's notified of missed calls.
Teams Easy Call Report – a simple and affordable solution
We offer Teams Easy Call Report, a simple solution to post all your missed calls in call queues, directly to a Teams channel.
You can monitor any number of call queues and choose to post them all to the same channel or to different channels. This way you can upgrade a long-desired feature at an affordable price and increase your efficiency at the same time.
The «Quick Action» buttons offer you a way to perform an action quickly and easily. For example, you can perform a callback with just one click. If you prefer to write an email or view the caller's website first, there are more buttons for this too.
An overview of the advantages
You can keep using all the advantages of call queues
You do not have to miss out of missed call notifications
You can monitor as many queues as you wish
You can enrich information on cards by adding information from different sources
You can boost your efficiency when coordinating or communicating regarding missed calls
Our solution is phone provider agnostic (works with any Direct Routing Provider and Operator Connect)
Calling Plans are currently NOT supported
Message Cards are available in English and German (By default, customization is possible)
More Information
You can find more information and FAQs on our product page.